Past Projects
Click Here For Info about the 2014/2015 Fence Art Gallery Project!
Click Here For Info about the Art House Hop (Last event held in 2017)
2021
"Isolation"
February 1st – March 31st
Virtual Reception (Facebook) February 19th  7-8 pm
View work by over 20 local artists, who have explored the theme of Isolation in a variety of media.
"The Hollow Ground Series"
April 1st – April 30th
Virtual Reception (Facebook) April 16th 7-8 pm
"What is the experience of truly being alive? That to me is the only true art to investigate, create and share with the world."
"Multiple Dimensions"
May 1st – July 31st
Virtual Reception (Facebook) May 21st 7-8 pm
This posthumous show exhibits work from Brian's personal collection and is wide-ranging, from some of his figurative sculpture in fired ceramic and bronze, to drawings in charcoal, ink, watercolor and pastel.
"SharonSSongS: The Ballads of 81 Years"
Virtual Show August 1st – August 31st
Virtual Reception (Facebook) August 20th 7-8 pm
Sharon Mohler's tiny, sculpted scenes of life, brimming with humorous, sometimes outrageous, and often loving moments, are a delight. She calls them "The Ballads of 81 years." "My pieces tell the same stories that sung ballads would if I were a better musician. The pieces were created over the last 40 years. Every piece tells a story, some tell many stories. There are four ingredients in my work, polymer clay, wire, acrylic paint and my imagination."
"Tool Abstracts"
In-person Show October1st – October 31st
Reception October 8th 6-9 pm
Sculptor Bob Huston is creating cast iron abstract sculptures exploring the theme of "Tools." An illustrated wall graphic will explain the casting process from pattern, to sand mold, to molten metal, to the finished piece.
The Holiday Art Jumble
November 12th – December 24th
Wednesday – Sunday 1-4 pm
The Holiday Jumble will take place physically in the YSAC Gallery if pandemic restrictions allow events of this kind at that time.
2020
"Pareidolia" – Seeing Faces in Unusual Places
February 21 – March 15
YSAC Members Show
Sep 18 – Oct 23
Art By Angie Hsu, Ryn McCall, Cheyenne Sandoval and John Wehner
2018
Holiday Art Jumble
Nov 17 – Dec 30
Fundraiser to benefit YSAC Community Gallery
Doors open to the public November 17, and the hunt for treasure is on!
Silent Auction – Bid on a princess dress for a 4-6 year old, hand-crafted by master seamstress Bette Kelley with beautiful details, including a built-in petticoat with ruffles.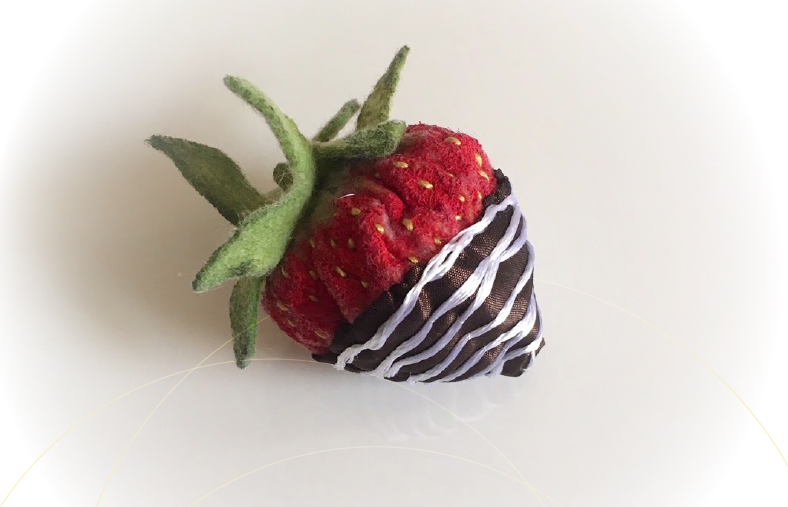 3×3
or
Less
Oct 19 – Nov 11
Community Art Show
We are talking inches! Tiny art, in any medium, by many artists. Curious to see how small they can go?

Stronger in the Broken Places
Sep 21 – Oct 14
Art by Deborah Dixon
A visual musing on the philosophy of Kintsugi* as applied to Deborah's life journey towards greater wellness.
*The Japanese art of Kintsugi is the repairing of broken pottery with laquer mixed with powdered gold. Repairs resulting from this process often make the object more unique, beautiful and valuable
Into the Garden
Aug 17 – Sep 16
New art by Christine Klinger
Vibrant visions of gardens – color-soaked flower gardens and lush water gardens – Klinger portrays them intuitively through a variety of materials on various textured surfaces.

Places Far, Near and Dear
July 20 – August 12
Art by Anna Arbor and Catherine Lehman
Arbor and Lehman present paintings inspired by Daubigny and Van Gogh
Wood Invitational – Artwork by 10 Exceptional Wood Artists
June 15 – July 15
Lowell Converse, Paul DeLaVergne, John Garrett, Alan Greenberg, Tom Hawley, Rob Liptak, Jim Mayer, Steve Merland, Bruce Parker, and Russ Shaw. "Working with wood is a joyous process" – Steve Merland
This is a show for lovers of wood. Beautiful, hand-crafted tables and chairs, intricate, inlaid nature scenes in 100-year-old barn wood box frames, sleek wood sculptures, beautiful bowls, intricate boxes, and humorous, sometimes sassy, wall art.
Dreamscapes – Surrealist Art by Carla Steiger
May 18 – June 10
Looking at Carla Steiger's art is stepping into a surreal experience.  In small dreamlike worlds she creates an irrational reality. It's up to you, dear viewer,  to find your own meaning.
Spending long, meditative hours in her studio, Steiger assembles small tableaux from her amazing collection of old photographs, toys, paintings, fabrics, small objects, and treasures gleaned from nature. "Every day is a treasure hunt for the perfect shell or piece of rusty metal that can make the difference in a picture," says the artist.
Landscape Images – Photographic Art by Lincoln Castricone
         April 20 – May 13
"Landscape never bores me and when it's grand I am called beyond myself. For me a good landscape rendering evokes at once a sense of familiarity and mystery, the recognition of a place I've never been and never left." –Lincoln Castricone
Think of dramatic scenes. Landscape and cityscape images. Powerful, wildly beautiful, compelling.

Brian Millar Paintings
March 16th – April 15th
Millar creates abstract paintings that are rooted in the traditions of Paul Klee, Wassily Kandinsky, Willem de Kooning and Adolf Gottlieb. Working with no planned outcome, he uses elements of visual language (line, shape, color, dark/light, texture, etc.) in an improvisational way.
Secret Places – Yellow Springs Arts Council Members' Show
February 16 – March 11
You never know what to expect at a members show – the mediums are varied and the styles are as unique as our marvelous artists! The members show is a glorious, messy show, jam-packed with art and always fun.
Celebrating the artists of Yellow Springs! Friends, Wine, Good Food, and an Art Mystery!
Celebrating the Banner Festival [still showing!]
January 19th through June 30th
The YSAC Permanent Collection – Local Art History Series, presented by YSAC and YS Arts & Culture Commission, hosted by the Village of Yellow Springs at the John Bryan Community Center
Panelists Maxine Skuba, Beth Holyoke and Terri Schoch – Banner Slides created by Irwin Inman – Banner Festival Video created by Susan Gartner – Live Music by Mitch Coleman on Keyboard
On January 19th, we will also be announcing our new home base for the YSAC Permanent Collection – The John Bryan Center! We will be showing off the new work donated in 2017 to this very special local art collection. Come meet the artists and see the new art in the collection. Refreshments will be served.
2017

Holiday Art Jumble & Arts Alive! Holiday Concert with Heartstrings
Nov 18th – Dec 31st
Sale of Art and Treasures for Bargain Prices!
This four-woman group (Mary Beth Burkholder, Sarah Goldstein, Linda Scutt and Carol Van Ausdal) performs both vocal and instrumental music with a signature blend of acoustic instruments including fiddle, harp, guitar, flute, banjo, concertina and hammered dulcimer. Their repertoire draws predominately from Celtic and Appalachian traditions with tastes of traditional music from other cultures, and will include festive holiday music in the concert.

"Following Ernst Haas: Photos of Yellow Springs and From Abroad"
Work by Keith Doubt
October 20th – Nov 12th
While giving a lecture on Bosnia in St. Louis, Keith Doubt chanced upon an exhibit of works from Ernst Haas at the International Photography Hall of Fame and Museum. There was a heartfelt connection. "His work clarified for me my focus and my motive as a photographer."

Femina Magicae
September 15 – October 22
Stories from life, dreams, rare and mysterious animals and other oddities. Two young, women artists expressing their "greatest, most magical joys and deepest traumas" through art.
"Silks & Wire"
August 18th – September 10th
A Fiber Artist and a Jeweler sat next to each other one day, and fell in love with each other's work. The outcome was Talitha Greene and Gayle Sampson creatively collaborating together for a year to create "Silk & Wire" original artisan and fine jewelry and wearable art. Fine Jewelry and Wearable Art – Art by Gayle Sampson and Talitha Greene.
"COLOR: The Language of Flowers"
July 21st – August 13th
Photographs by Nancy Howell-Koehler on July 21st from 6-9 pm. Flower Arrangements by Glen Garden Gifts. Nancy Howell-Koehler captures the essence of a living plant through a process that is immediate, and detailed. She scans the original live flower composition with the background and all details fixed in place.
"Earth Patterns"
June 16th – July 16th
New Ceramics, Works on Paper and Collaborative Vessels by Dianne Collinson and Friends.
Speckled and spotted, textured and smooth, the beauty of the world where feathers, leaves and reflections mimic and call each other across landscape and species. The infinite variety of nature's patterns migrate from the fields, forests and sea, the owl's plumage repeated on the surface of paper and clay, and crystal waters cast forward in the depth of a glaze.
"1 in 5"
May 19th – Jun 11th
Art by Kathryn Olson
"The struggle with my mind and my body is what I am left with. Because of what happened I am to be blamed by how I am dressed, how I act, what my sexual history is, and I have no voice in any of it. Displaying a visual representation on my personal experience with rape and sexual assault, 1 in 5 reflects on and continues the conversations that I have with myself."

"Bosom Buddies" – A Journey Through Breast Cancer
April 21st – May 14th
Presented by the Jafagirls – Two friends and invited guests share how a diagnosis of breast cancer affects patients, friends and family. This is an exploration of the creative ways, they have dealt with the roller coaster of emotions: of fear, anger, grief, bewilderment, and joy.
"Try Another Way" Redefining Dis-abilities
March 17th – April 16th
Community Show presented by Nicki Strouss – A show about the experience of living with a disability or being a part of the life of a person with a disability.
"People without disabilities or without friends or family with disabilities, sometimes have difficulty understanding and relating to those of us who live with a disability. This show hopes to bridge that gap. Our lives are not that different from others, we just sometimes have to Try Another Way to succeed."
"Breaking the Rules" – The Members Show
Art by YSAC Members
February 17th – March 12th
What rules? Art rules? Personal rules? Mom's rules? Society's rules?
The Show's rule to make art that breaks the rules?Wonder what will be in the YSAC Members Show? We don't know until the art is dropped off. But it's always fun to see what Artists have been up to.
2016
October 23rd – November 13th
"Sculpture: Recovering from 30 Years in Management"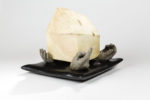 Art by Richard Lapedes
A proud member and YS community giver, Richard Lapedes has been gracing the stage with his multimedia sculptures that prompt human expression through metaphorical and expressional means. His work will be on display in the YSAC gallery, a larger-than-life collection encouraged to be seen.
October 2
Yellow Springs Sketch Crawl
August 19 – September 11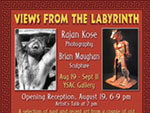 "Views from the Labyrinth" Rajan Kose and Brian Maughan
A selection of past and recent art from a couple of old dudes who've been wandering in the labyrinth for decades.
July 15 – August 14
"Observations, Flowers and Landscapes": Art Work by Ann Gayek and Michele BonDurant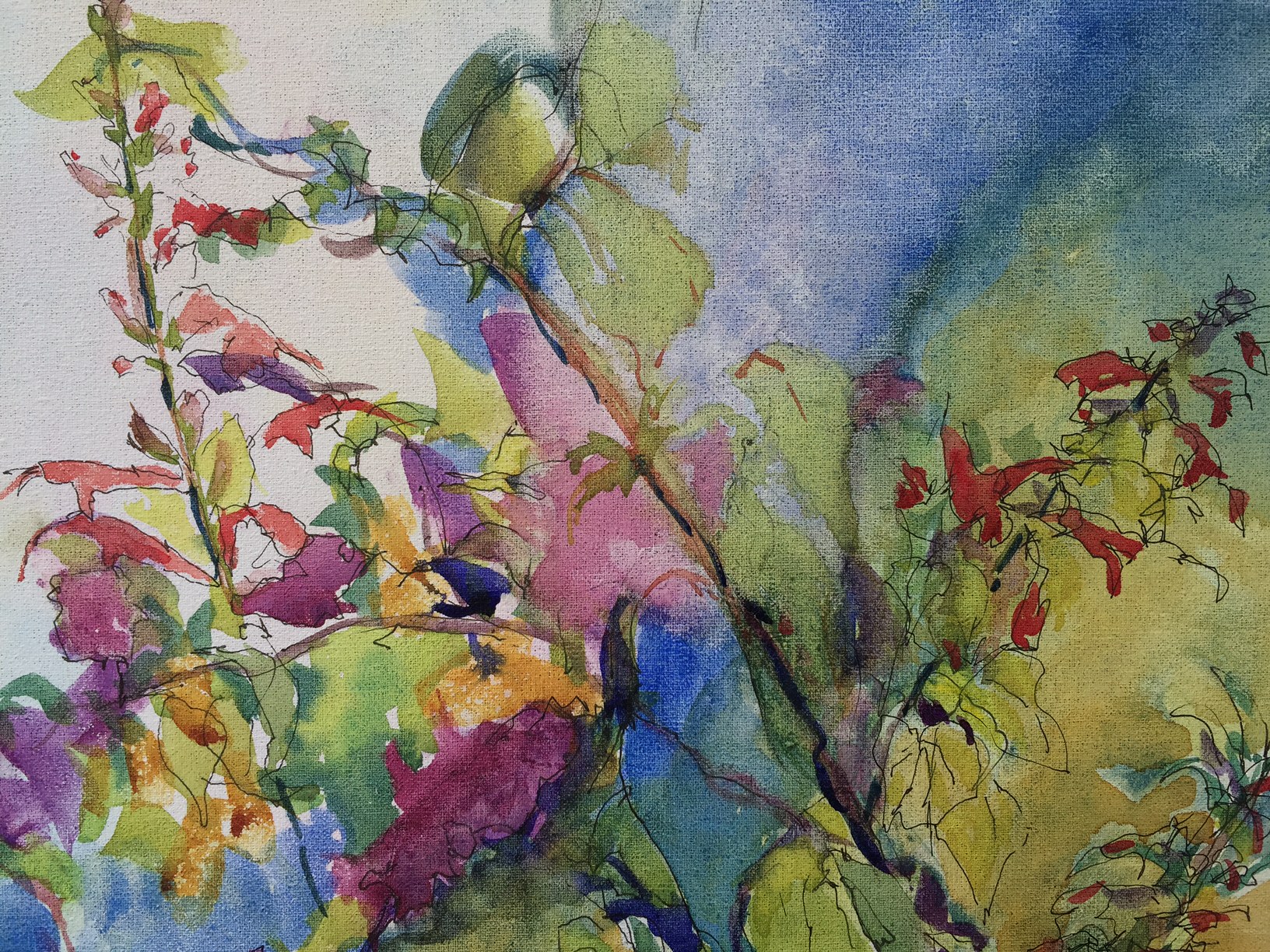 Flowers, Gardens and Landscapes, the warmth of the sun in hot, drenched yellows, deep, cool shadows under bridges, abandoned buildings burrowed in nature, and meditative views from the lake. Two Women Artists with very different views of Landscapes.
2015
December 4 – January 3, 2016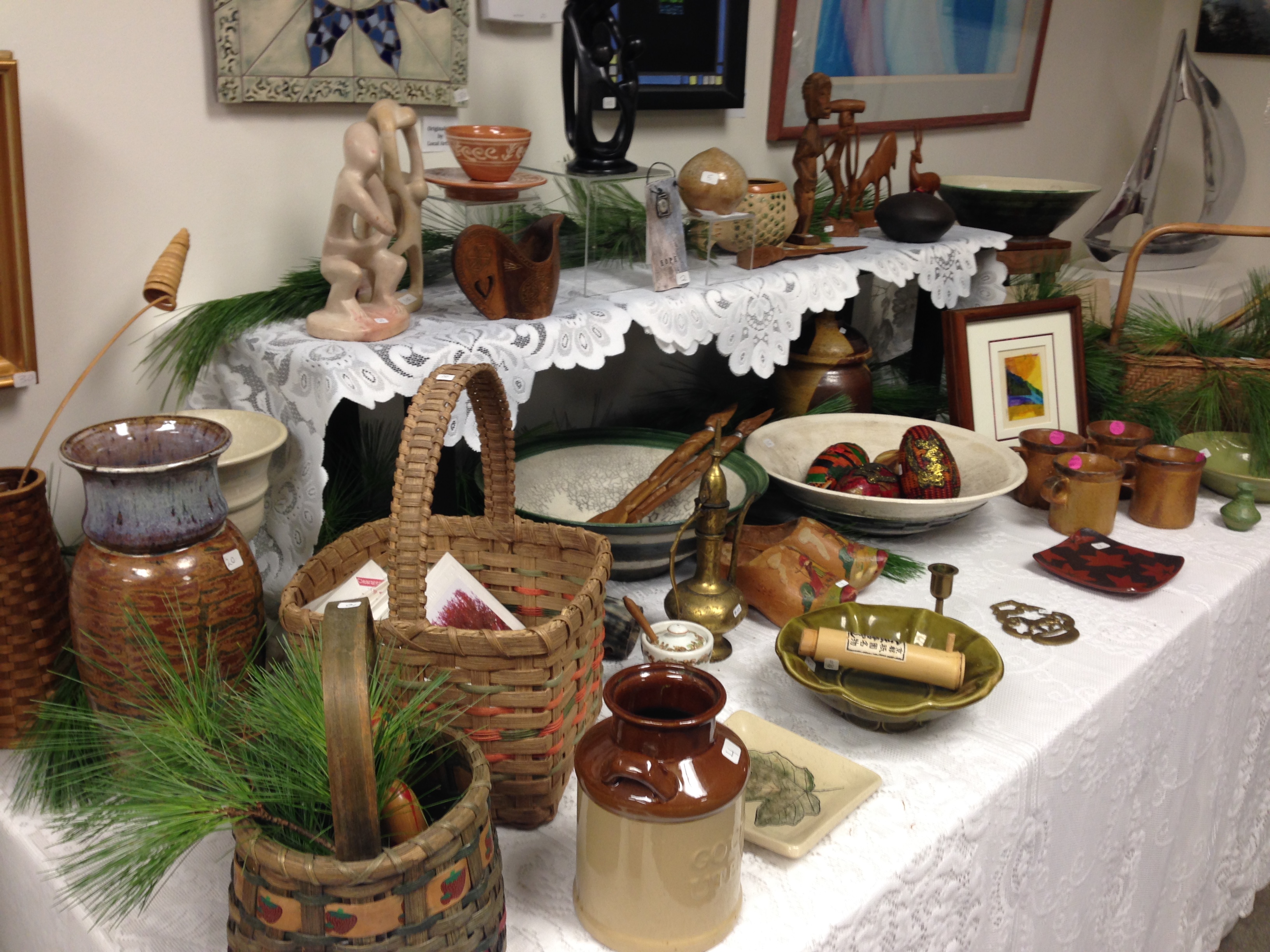 Holiday Art Jumble
Find a treasure from the many items donated for our annual fundraiser. Shop from Out-of-the-Closet Art, Grandma's Arty Knickknacks, Hand-Crafted Whimsy, and Art Supplies in this yearly community art reshuffle.
November 13 – 29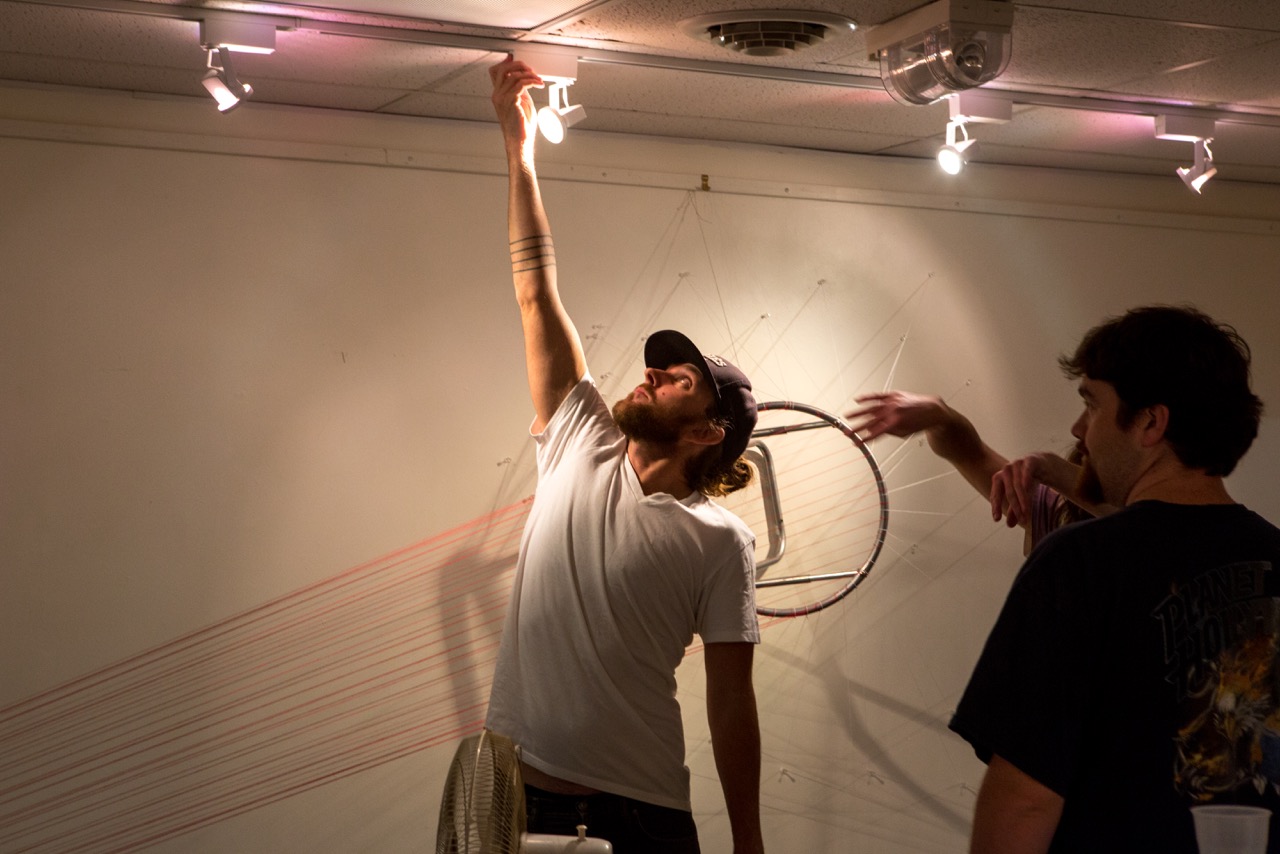 Locked In: Team 2, a creative collaboration between Nathaniel Foley, Brandon Lowery and Jesse Thayer
3 Artists spent 3 days locked in the gallery to create an installation with 3 large boxes of 'stuff' donated by the community. Each chose 3 tools to aid in their creative process.
October 16 – November 8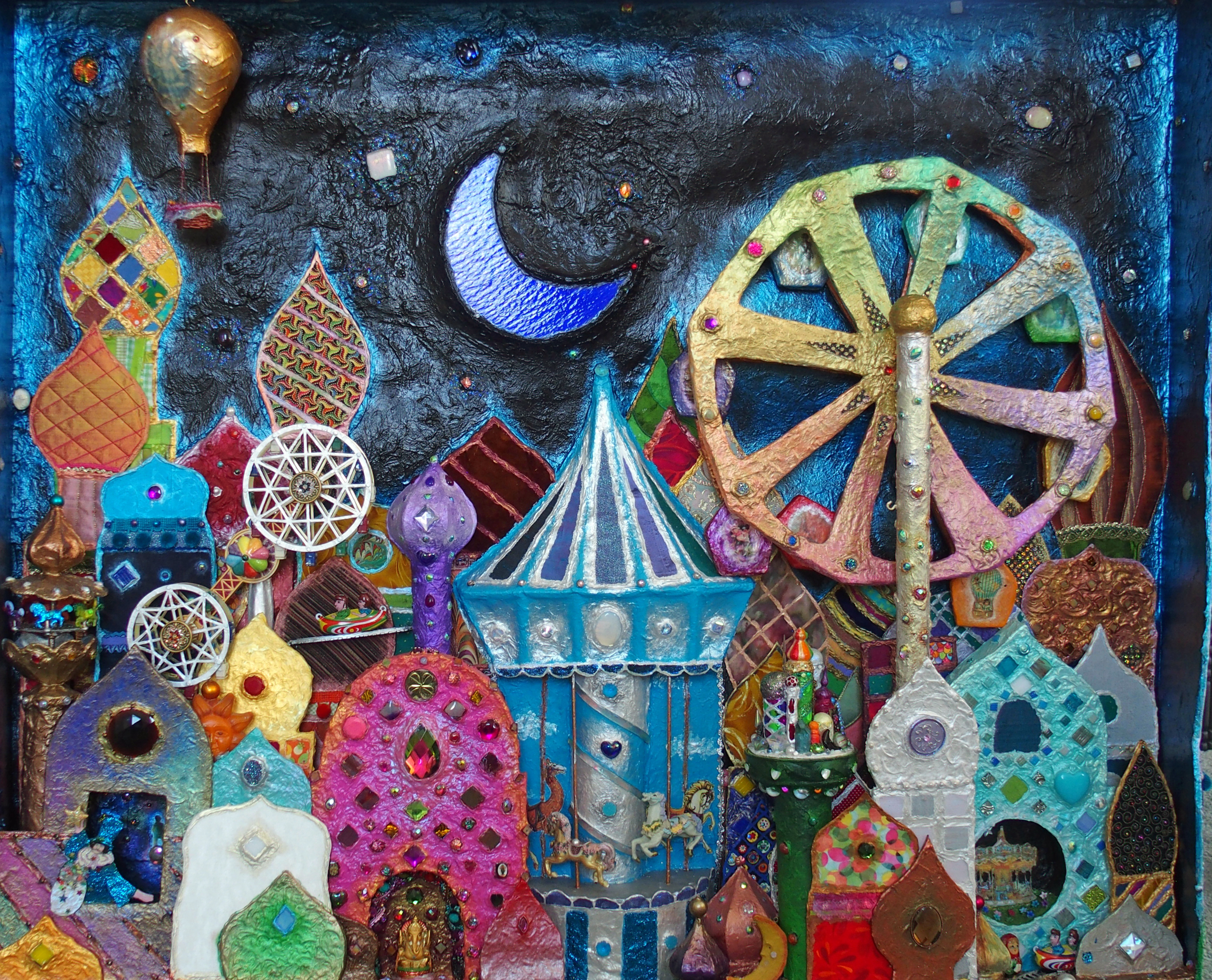 Explorations of Dreams and Memories, work by Sharri Phillips
The artist states, "Through working with a variety of materials such a fabric, paint and paper mache, I try to create expressions of dreams and memories which often overlap in the most whimsical and mysterious of ways."
September 19 – October 11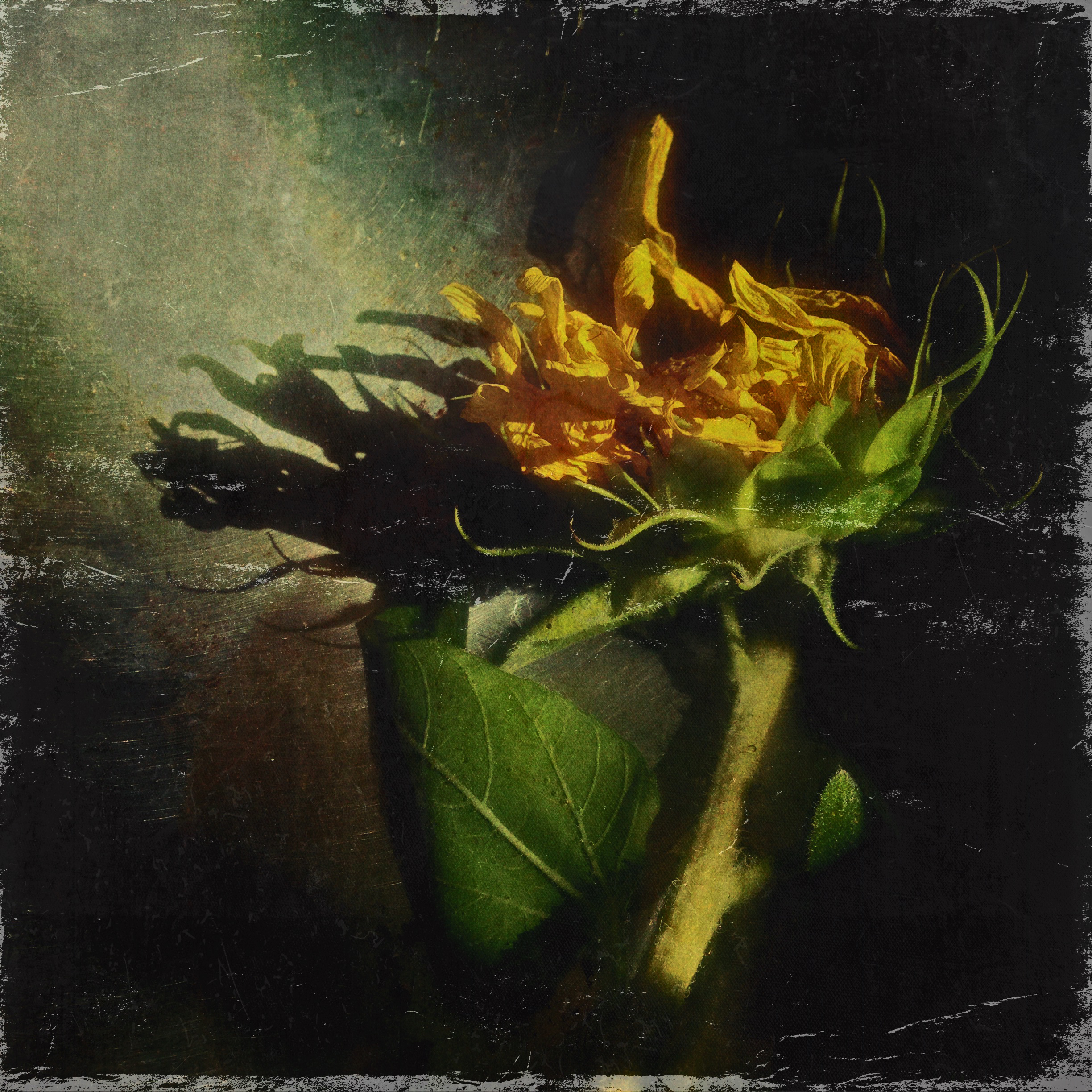 "The Sunflower Show", a group show presented by Tecumseh Land Trust
The Dayton Visual Arts Center (DVAC) encourages painting in nature through 'Paint Outs' at various sites in the Miami Valley. In September of 2014, DVAC collaborated with Tecumseh Land Trust and with Dave and Sharen Neuhardt, owners of Whitehall Farm, to invite both kids and adults to paint for a day in the Neuhardt's 10 acre sunflower field. Both experienced and novice artists gathered, painted, drew, and discussed their art with each other and with Wright State Emeritus Professor David Leach. The art produced on and around this day forms our body of work. (Shown Here: Summer's End by Corrine Bayraktaroglu)
August 21 – September 13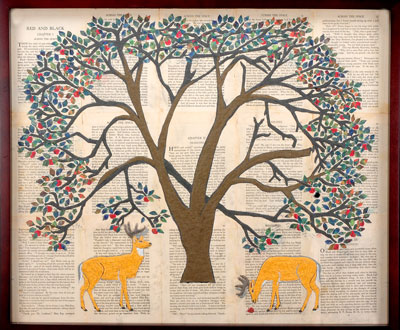 "A Green Desire", collage and mixed media by Jeff Mellott
Jeff Mellot is having a conversation with trees. His current work focuses on the symbol of the tree. What is the nature of trees? How do they co exist with all of life? Man has used them for shelter and warmth and art. Wildlife make their homes in them, use them for protection and for vertical playgrounds. They feast on them. The show presented his work reflecting on the symbol of the tree – the tree of life, the individuality of a tree, it's relationships and transformation into written and visual narratives.
July 17 – August 16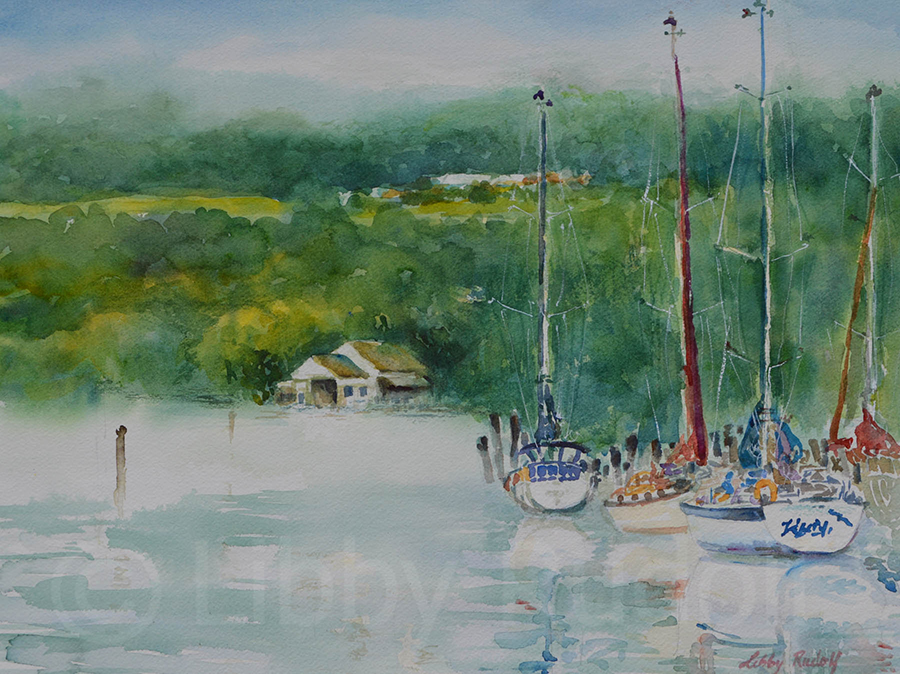 "Reflections", work by Monday Morning Artists
The Monday Morning Artists create pieces in a variety of mediums. In 2010, a small group of artists decided they wanted to do a 'drawing a day' project to grow as artists. They had so much fun that they decided to continue to meet monthly to share and create together. And that's how the group "The Monday Morning Artists" was born. Every year or so, they exhibit their art as a group; this was their fourth exhibit.
June 19 – July 12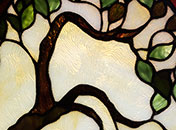 "Botanical": Impressions in Clay, Glass, and Photography by Dianne Collinson, Kit Crawford and Dennie Eagleson
Each of the artists approached the theme of "Botanical" working in their individual medium. Through their work with clay, glass and photography, each discovered in the natural world corresponding qualities of line, color and light.
May 15 – June 14
"Pleasure in the Pathless Woods" Photography by Michael Lynch
At first, Mike Lynch was a painter. After a while, he started using a camera to photograph his subjects for his paintings. The camera was a revelation. He felt it freed him. In Mike's words: "When you first look over the show you will think that it is simply nudes in nature. It is that, but it is also a study of texture, form, shape, and color. The photos explore the idea of the goddess and the nude. The images illustrate emotions. They capture the human female form in all four seasons. The images blend together landscape photography and fine art."
April 17 – May 10
"Figural Painting: All About the Human Body and Face", work by Tom Verdon
Tom is a figurative painter who paints the many forms, shapes and expressions of our fellow creatures. He is used to other artists being around him while he works, and shares his studio weekly with a group of artists for live model painting/ drawing sessions.
March 20 – April 12
"#ysgram", a Photographic Essay of Yellow Springs by 8 local Instagram photographers, Amy Hable, Corrine Bayraktaroglu, Talitha Green, Sandi Sharp, Steve Ali, Lori Gravley, Julius Eason and Adrian Cosby
So what is Instagram, you may ask? Instagram can be a creative obsession, it's mindfulness, it's capturing and sharing a moment in time, it's communal play, it's a way of seeing. OR Instagram is an online mobile photo-sharing social networking service. This photo was taken by Amy Hable
February 20 – March 15
Members' Show "Family and Other Animals"
Man has made images of mankind and animals from the beginning of time. Why? Artists are invited to immortalize, satirize, blend, create a new species, or a new family, capture a likeness, expose a soul or maybe explore how far they can push their imagination with wild fantasy creatures. Work was in many mediums. "Cold Comfort" by Kathy Verneer Moulton is pictured.
2014
December 5 – 31
Holiday Art Jumble
Find a treasure from the many items donated for our annual fundraiser. Shop from Out-of-the-Closet Art, Grandma's Arty Knickknacks, Hand-Crafted Whimsy, and Art Supplies in this yearly community art reshuffle.
November 11 – 30
Locked In: A Creative Collaboration
Work by Ron Hundt, Jennifer Bachelder, Pierre Nagley and videographer Travis Hawkes
3 Artists spent 3 days locked in the gallery to create an installation with 3 large boxes of 'stuff' donated by the community. Each chose 3 tools to aid in their creative process.
October 18 – November 9
Plastic World – Work by Mary Ellen Croteau
Beautiful artworks from plastic waste made by an internationally-known Chicago Eco Artist
September 19 – October 12
Yellow Springs Kids Playhouse 20th Year Celebration Show
YSKP staff and volunteers dug through the 'archives' and found great treasures! There were wild and colorful puppets, props, posters, masks and costumes – 20 years of visual art created by Yellow Springs Artists for YSKP productions.
August 15 – September 14
"I Always Liked to Look at the Pictures" – work by Kathy Verner Moulton
Books for children and the young at heart, written and illustrated by Kathy Verner Moulton
July 18 – August 10
"Phyllis' Show" – Photography by Nance Parent
Nature photos in honor of the artist's mother.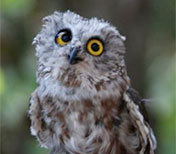 June 20 – July 13
"Gone To The Birds" – work by photographer Talitha Greene and local artists
"For The Birds" features Talitha Greene's award winning photographs taken over a decade of documenting individual Glen Helen Raptor Center Birds. Included in the Gallery Exhibit was an unusual Bird Aviary full of zany, sweet, beautifully crafted 3/D Art Birds, made by many local artists.
May 16 – June 15
Memories in the Attic – Work by Celise McKee
New uses for old, discarded things—finding beauty in the humble and the everyday.
April 18 – May 11
Art is Vice – work by Gary Birch – Painter
Gary works with acrylic paint and charcoal on wood. He may attach objects to the painting or use spray paint or cut the rectangle apart and reconfigure the images into a whole with less balance. Some of his paintings are framed, but most are left without that boundary.
March 21 – April 13
What Deals Have You Made With Your Dreams?
work by Ira Beryl Brukner – Outsider Artist
A show of irregularly irregular, abstract-expressionist, non-conformist art.
February 21 – March 16
Members' Show: Stretch – And Now For Something New
Celebrate the Artists of Yellow Springs, who have stretched themselves to create a wide variety of works for this show. (Pictured work is by Kit Crawford)
2013
December 8 – 31
Holiday Art Jumble – Fundraiser and Community Art Re-Shuffle
Find a treasure from the many items donated for our annual fundraiser. Shop from Out-of-the-Closet Art, Grandma's Arty Knickknacks, Hand-Crafted Whimsy, and Art Supplies in this yearly community art reshuffle.
November 8 – December 1
My Own Species: What Does It Mean?work by Tom Verdon & Parviz Dadras
Classical paintings and drawings by two local artists.
October 18 – November 3
Maquettes For Large Scale Public Sculptures
work by Jon Barlow Hudson
A maquette is a preliminary, usually small model (as of a sculpture or a building).
September 20- October 13
The Dreamer's Journey: Passages Thru Inner Landscapes
Work by Carol Allin
Primarily an illustrator and sketch artist, Carol Allin uses pencils, pen-and-ink, and chalk or oil pastels in her dreamscape drawings.
August 16 – September 15, 2013
Bling! The Jewelry Show – work by artisan and fine jewelers
Jewelry made using a wide variety of techniques and materials including precious metals, semi-precious stones and polymer clays.
July 19 – August 11
In and out of space and timework by Patricia High
Patricia High's dramatic, abstract paintings focus on the "connection between matter and the spiritual energy that governs."
June 14 – July 14
Who Are We? – Sculpture by Alice Robrish
Alice Robrish makes classical, figurative sculptures in ceramic and paper mache, frequently incorporating found materials. Her work gives voice to prominent, timeless issues. Alice's current work focuses on the lives of the unsung, with an emphasis on minorities and women.
May 17 – June 9
THREE ARTISTS Figure Objectswork by Gerry Fogerty, Palli Davis and Beth Holyoke
The exhibit is the work of three artists who have known each other for many years, each exploring different media. In this show the emphasis is on the human figure.
April 19 – May 12
3 – work by Sandi Sharp, Debbi Kampel, Leanne Foley
Three artists who also work as educators and through art therapy; Three friends who are brought together to showcase the expressive, observational, and joyful nature of art making; Three different artistic explorations showing individual processes and direction.
March 15 – April 14
Fiber & Fabric
Work by Julia Cady, Luisa Owen, Deb Henderson
From weaving on a loom, to "painting' with fabric, to using a sewing machine to make a historical play come alive, these three artists are in love with Fiber and Fabric.
February 15 – March 10
Member Show: Art for Change
Artists harness the power of art to promote awareness, provoke dialogue, and inspire action.
Supporting the Yellow Springs Arts Council Gallery Program