In the Gallery: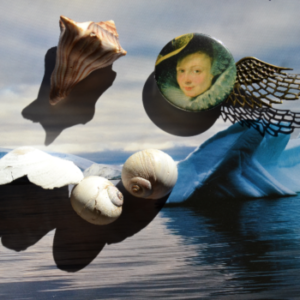 Dreamscapes – Surrealist Art by Carla Steiger
May 18-June 10
Looking at Carla Steiger's art is stepping into a surreal experience.  In small dreamlike worlds she creates an irrational reality. It's up to you, dear viewer,  to find your own meaning.
Spending long, meditative hours  in her studio, Steiger assembles small tableaux from her amazing collection of old photographs, toys, paintings, fabrics, small objects, and treasures gleaned from nature.  "Every day is a treasure hunt for the perfect shell or piece of rusty metal that can make the difference in a picture," says the artist.
Employing heightened colors, spatial incongruities and size distortions, she creates worlds that could mean many things, depending on the viewer.  Many stories are enfolded within them. "My goal is for every viewer to interpret each image in his or her own way. That is why the dreamscapes are all untitled."
Steiger then photographs the tableaux, in natural light, in a direct, single negative or digital photograph.
The exhibition will include a working sample of the assemblage and instructions on how to do this technique.
*Artist Reception*
May 18th 6 – 9 pm
Refreshments will be provided
Artist Demo at 7pm
---