"Miami Valley Scenes and Dreams"
Fiber Art by the Miami Valley Art Quilt Network
May 26 – June 25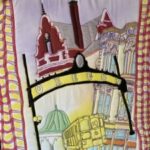 This 17-member collective of fiber artists will show some art of the Miami Valley that has already been exhibited, in addition to making new art specific to this show. These quilters will use fabric, yarn, and other materials to create art quilts which honor the beauty of the Miami Valley. Shown: Oregon District by Ronnie Doyal.
Meet the artist at the reception on Friday, May 26, from 6-9 PM. There will be an Open Mic at the event.
The Robert F. Baldwin Jr. Gallery is open on Thursday – Sunday from 1 – 4 pm between the dates listed at left.
---
YSAC Community Gallery is now the Robert F. Baldwin Jr. Gallery!
On December 17, 2022, the Yellow Springs Arts Council dedicated our gallery to long time supporter and local philanthropist, Robert Baldwin Jr. It was a private dedication ceremony several speeches, including a beautiful speech by Nancy Mellon about all that YSAC has accomplished over the years & the ways Mr. Baldwin has helped facilitate those accomplishments. Thank you to everyone who took part in this, & thank you Mr. Baldwin for all you've done for YSAC!