Carol Ann Freeman Retrospective
July 15 – August 14, 2022
If you asked Carol Ann Freeman who she is, no doubt she would tell you she is a Mom. To her six kids and six grandkids and anyone that knows her just a bit, she is an Artist.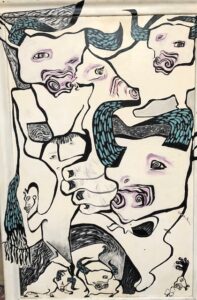 Carol Ann Freeman lives in Yellow Springs, Ohio. She has a career that has taken her from Ohio to New York City to Provincetown and Cape Cod, Massachusetts. Her medium ranges from all paint bases to fiber to clay to metal to pen and paper. Carol is a multifaceted artist. Her family is her muse. Social and political activism live in her work.
Carol picked up her first paint brush at age three. Color and brush strokes were her outlet from a strict and unpredictable life as a child in an Air Force family. Spanning Carol's entire career, you see the influences of her many homes across continents. Perhaps, one of the most influential, Okinawa, Japan.
Carol's body of work has flowed through many styles and mediums over the sixty plus years she has been creating. Her professional career began primarily with watercolors and oil paintings. Her subject matter was often her kids, life on a farm and rural settings. Soon it began to emerge into fairy and fantasy with a focus on life under the sea and magical forests. From here, Carol began to experiment with 3D mediums. During this period, Carol was a Designer of accessories and clothing for Bettina Riedel in NYC. She was the Costume Designer for theatre productions at the Cape Playhouse and Provincetown Theatre, both on Cape Cod.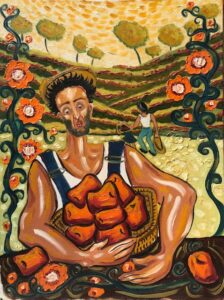 In 2005 Carol Ann Freeman moved back to Ohio. Her 2 youngest kids graduated from Yellow Springs High School. All her chicks were out of the nest, so to speak. At this point Carol's work evolved to abstract, large scale, commentaries on life, its fragility and the sociopolitical goings-on of the world. References to war, strife, tyranny can be interpreted and seen in her painting.
Most recently, Carol's work is an ode to the sum of all of her life experiences. Through vivid colors incorporated with heavy line drawings and underpaintings, layers emerge for the eye to peel back. One can easily become entranced as they are drawn into her world. The full spectrum of emotions are felt from joy to fear to resolution. Carol Ann Freeman's art is for herself and an attempt to make some sense of the world she lives in. Carol's hope is that you can see a little bit of her and yourself in her art.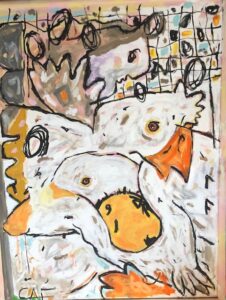 Prominent Galleries & Showings:
The Julie Heller Gallery, Provincetown, MA
The Cape Playhouse, Dennis, MA
The Berta Walker Gallery, Provincetown, MA
The Provincetown Theatre, Provincetown, MA
The Sailor's Valentine, Newport, RI
The Winds, Yellow Springs, OH
Bettina Riedel, NYC
Rose & Sal, Yellow Springs, OH
American Folk Art Museum-Gift Shop, NYC
Yellow Springs Art Council, Yellow Springs, OH
*Additionally, Carol's work can be found in numerous private collections throughout the US.