"Time and Place"
Laura Carpenter Truitt
September 8 – October 8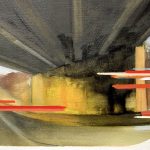 This exhibition is a multimedia expression of perspective and space from personal to the landscapes around us. Much of her body of work is in reaction to the devastated state of our environment and the importance of taking conservation seriously. She writes, "The underlying conflict in my work is generated by climate change, land abuse and over consumption of all kinds, my own included. The borders and edges of images and objects illuminate barriers as well as showing us paths of entry." Time and Place will feature some of her dashcam paintings which stem from the views of her commute. She explains them as "an attempt to describe the speed of driving by a landscape, and to capture some of the mystery and beauty of a landscape in motion". Laura has extensive experience in painting. She was awarded her MFA in painting from Colorado State University and is currently a visiting assistant professor of painting and drawing at Oberlin College. However, like many artists, Laura is no stranger to exploration. She will also be exhibiting work from her newest medium, ceramic pots. Get excited for Time and Place and check out her work on Instagram @lauraberch.
Join her in celebrating her show opening on Friday, September 8th from 6:00 pm – 9:00 pm. The event will include an open mic.
The Robert F. Baldwin Jr. Gallery is open on Thursday – Sunday from 1 – 4 pm between the dates listed at left.
---
YSAC Community Gallery is now the Robert F. Baldwin Jr. Gallery!
On December 17, 2022, the Yellow Springs Arts Council dedicated our gallery to long time supporter and local philanthropist, Robert Baldwin Jr. It was a private dedication ceremony several speeches, including a beautiful speech by Nancy Mellon about all that YSAC has accomplished over the years & the ways Mr. Baldwin has helped facilitate those accomplishments. Thank you to everyone who took part in this, & thank you Mr. Baldwin for all you've done for YSAC!