Rent our Multi-Arts Event Room for workshops, parties, meetings, and more!
The YSAC Community Gallery Multi-Arts Event Space provided a welcoming, intimate performing space for listening to acoustic music. It was quiet and comfortable with all of the requisite amenities. YSAC was very helpful with arrangement of the room in order to provide the ambiance we were hoping to create. Their promotional network is second to none! I am glad to see that this space is becoming a great new venue for Yellow Springs!

– Charlie Peters, Yellow Springs Songwriter Concert Series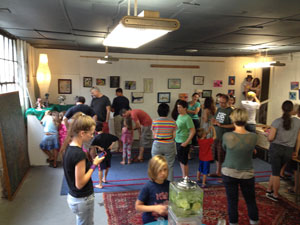 The Multi-Arts Event Room is a 750 square foot, handicap-accessible, flexible-use space located off the main gallery. There is a restroom and separate kitchenette, and 1400 square feet of patio space available for use. A limited number of tables, chairs, audio visual equipment, platters, pitchers, other dishes and serving utensils are also available for use at no extra charge.
Planning a party, meeting or reception? Rental is $15/hour for non-members and $10/hour for members.
Planning a workshop, class or paid event? Rental is $4/attendee for non-members and $2/attendee for members.
Interested in holding a series of events, or a free event? Talk to us about negotiating a special rate.
More details are available on the rental guide PDF. Click here to see the building layout.
Perfect, central location in artistic downtown Yellow Springs!
111 Corry Street
Yellow Springs, OH 45387
Contact Tara with your questions and rental requests by email or at 937-768-8644.