Nancy Mellon, Gallery Coordinator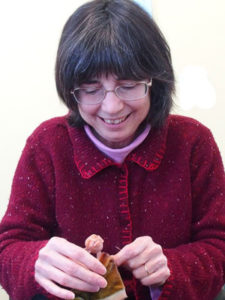 Nancy Mellon is a multimedia artist and an arts facilitator who has been making art all her life. Her first sculpture was made out of Elmers' Glue rolled around until it became putty. Since then, whatever is around becomes a medium for creating. She has worked with paint, colored pencils, clay, polymer clay, textiles (her favorite is felt), notions, wire, repurposed stuff, wood, food, photographs, flattened soda cans, decoupage and her body.
She grew up in Park Ridge, Illinois, and always knew she was an actress, who made visual art and wrote. Nancy graduated from the Goodman School of Drama of the Art Institute of Chicago. For several years after that she performed with different Chicago Theater groups. She was a member of SAG and Equity. Then she got married and moved to New York City, to try her luck in the theater. She failed at it, was very blue and had to rethink who she was.
While living in NYC, she created a series of opera art dolls that were shown at the Metropolitan Opera Gift Shop in Lincoln Center, who also commissioned her to make a portrait doll of Lotte Lehmann. She thoroughly enjoyed her time studying drawing at NYC's Art Students League.
After moving to Boston, Nancy completed a 2 year course in Children's Writing and wrote many short stories for children. She also spent two years researching and writing a one-woman play about 27 women in the Civil War, which she then performed in different venues. Her family moved to Champaign, Illinois, whereshe taught children's theater and started home schooling.
Nancy and her family then moved to California, where she studied sculpting and created classical figure sculptures. She also created a series of photographic spoofs of classical paintings and sculptures, and a caregiver greeting card series. During that time she was homeschooling her 2 boys and caregiving her mother. With her husband, she co-wrote two plays for adults, directed one and adapted two children's plays which she directed.
Finally, in 2003 she moved to Yellow Springs and said, "This is it. This is where I want to stay forever." She joined Village Artisans and the Arts Council.
As part of an art collective called the Jafagirls, she and her art partner Corrine Bayraktaroglu have created over 80 zany Public Art installations. Jafagirl Public Art installations, a mixture of yarn bombing, felt appliqué, activism & laughter have been highlighted in 7 books, in international magazines and newspapers and on international radio programs. Two times stories about their art adventures have gone viral on the Internet. In 2013 the Jafagirls Public Art career was featured at the Dayton Art Museum. In 2014 they were asked to install a Public Art piece for the Springfield Art Museum.
Nancy thinks the best part of her job as Gallery Coordinator for YSAC is the opportunity to work with so many wonderful local artists.
Lara Bauer, Arts Alive! Coordinator