Tara Anderson is a ceramicist and sculptor with a BFA in Painting from Ohio University. She lives in Wilberforce with her husband, 3 kids, 2 cats and 2 dogs. She works in and around Yellow Springs as a freelance artist and as a member of Village Artisans, a co-operative artists' collective located just across the street from the Yellow Springs Arts Council.

Brianna Ayers, Bookkeeper
Brianna is an accountant who works at a firm in Columbus. She graduated from Bowling Green State University and then went to Loyola, where she studied accounting. When she's not working, she likes to spend her time traveling, staying active outdoors, and hanging out with all the lovely people in my life.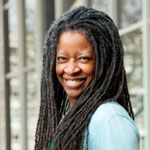 Valerie has been a freelance performer for over 25 years. Currently a member of the Egyptian Breeze Belly Dancers, she has taught dance styles from Afro-Cuban to modern to jazz to ballet, choreographed for musicals and dance concerts and organized several dance events through the region. She developed, produced, choreographed and performed in her annual Valerie Blackwell-Truitt Community Dance Concerts which ran from 1994-2009. Valerie co-directed and performed with One National Performance Ensemble of Miami University for 10 years. The company's mission was to promote a dialogue surrounding societal issues such as race, gender, ethnicity, and poverty and foster social justice and social change. Valerie performed with two dance companies while living in Colorado and had the privilege of studying with Alvin Ailey Dance Company, and Bill Evans Dance Company as well as earning a scholarship to dance with Philadanco Dance Company.