Nancy Mellon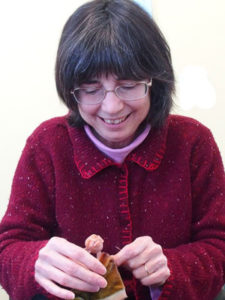 is a multimedia artist and an arts facilitator who has been making art all her life. Her first sculpture was made out of Elmers' Glue rolled around until it became putty. Since then, whatever is around becomes a medium for creating. She has worked with paint, colored pencils, clay, polymer clay, textiles (her favorite is felt), notions, wire, repurposed stuff, wood, food, photographs, flattened soda cans, decoupage and her body.
She grew up in Park Ridge, Illinois, and always knew she was an actress, who made visual art and wrote. Nancy graduated from the Goodman School of Drama of the Art Institute of Chicago. For several years after that she performed with different Chicago Theater groups. She was a member of SAG and Equity. Then she got married and moved to New York City, to try her luck in the theater. She failed at it, was very blue and had to rethink who she was.
While living in NYC, she created a series of opera art dolls that were shown at the Metropolitan Opera Gift Shop in Lincoln Center, who also commissioned her to make a portrait doll of Lotte Lehmann. She thoroughly enjoyed her time studying drawing at NYC's Art Students League.
After moving to Boston, Nancy completed a 2 year course in Children's Writing and wrote many short stories for children. She also spent two years researching and writing a one-woman play about 27 women in the Civil War, which she then performed in different venues. Her family moved to Champaign, Illinois, where she taught children's theater and started home schooling her 2 sons.
Nancy and her family then moved to California, where she studied sculpting and created classical figure sculptures. She also created a series of photographic spoofs of classical paintings and sculptures, and a caregiver greeting card series. During that time she was homeschooling her 2 boys and caregiving her mother. With her husband, she co-wrote two plays for adults, directed one and adapted two children's plays which she directed.
Finally, in 2003 she moved to Yellow Springs and said, "This is it. This is where I want to stay forever." She joined Village Artisans and the Arts Council.
As part of an art collective called the Jafagirls, she and her art partner Corrine Bayraktaroglu created over 80 zany Public Art installations, mostly in Yellow Springs. Jafagirl public art installations, were a mixture of yarn bombing, felt appliqué, activism & laughter have been highlighted in 7 books, in international magazines and newspapers and on international radio programs. Two times stories about their art adventures went viral on the Internet. The Jafagirls Public Art career was featured at the Dayton Art Museum and they were asked to install a Public Art piece for the Springfield Art Museum and create a show in Springfield Art Museum's interactive Chakeres Gallery. For 6 weeks, they also had the pleasure of being the first Artists in Residence at the brand new Northwest Metro Library.
Since the beginning of 2018, the Jafagirls are now long distance friends and are no longer creating art mischief around Yellow Springs. Corrine has moved to Phoenix to be near her grand children and Nancy has had the pleasure and chaos of her grand children moving in with her.
Nancy thinks the best part of her job as Gallery Coordinator for YSAC is the opportunity to work with so many wonderful local artists.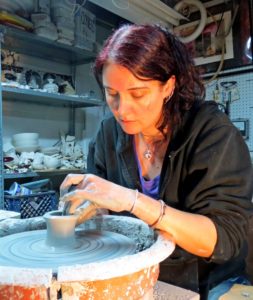 Tara Anderson is a ceramicist and sculptor with a BFA in Painting from Ohio University. She lives in Wilberforce with her husband, 3 kids, 2 cats and 2 dogs. She works in and around Yellow Springs as a freelance artist and as a member of Village Artisans, a co-operative artists' collective located just across the street from the Yellow Springs Arts Council.
A native of Northern Virginia, Khalil Nasar received his BA in Media Arts at Antioch College with a focus on video and music production. Since 2017, he has been a freelance videographer, photographer, and editor, specializing in music videos, fashion promos, and interviews. His work aims to interpret the complex emotional, sometimes conflicting, spectrum of being human.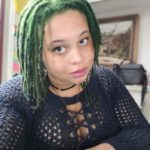 Born and raised in Columbus, Ohio, Alex moved to Yellow Springs in the fall of 2012 to attend Antioch College. She is a poet, budding photographer, an owner of a sometimes-visited guitar, and a fan of all things arts and art related. She worked with the Yellow Springs Arts Council for her Co-Op during her time as an Antioch Student in 2014, and in late 2018 returned to working with the Arts Council in a different capacity. She is the Special Events Coordinator at the Yellow Springs Chamber of Commerce, planning the Yellow Springs Street Fair (and serving many other functions in this role), a board member of Yellow Springs Home, Inc., and loves to be involved in her community.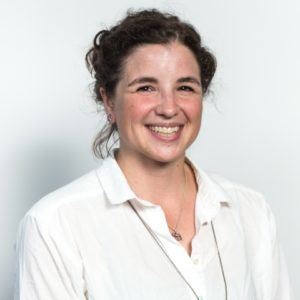 A native Ohioan, Angela Smith received her B.F.A from Savannah College of Art and Design and received her M.F.A from Ohio University. Smith's focus has been on photography, print making, and art history studies with a focus in museum studies. While showing work in galleries from New York, to Philadelphia, to Pittsburgh, and all over Ohio, she has been an Adjunct Faculty member at many of the colleges around the Central Ohio area. Most recently she has been teaching at Ohio State University and Columbus College of Art and Design. Currently as a member of ROYGBIV in Columbus she is planning for an upcoming solo show. As a current transplant to the Yellow Springs area she is excited to immerse herself in the local art community and help promote art education.