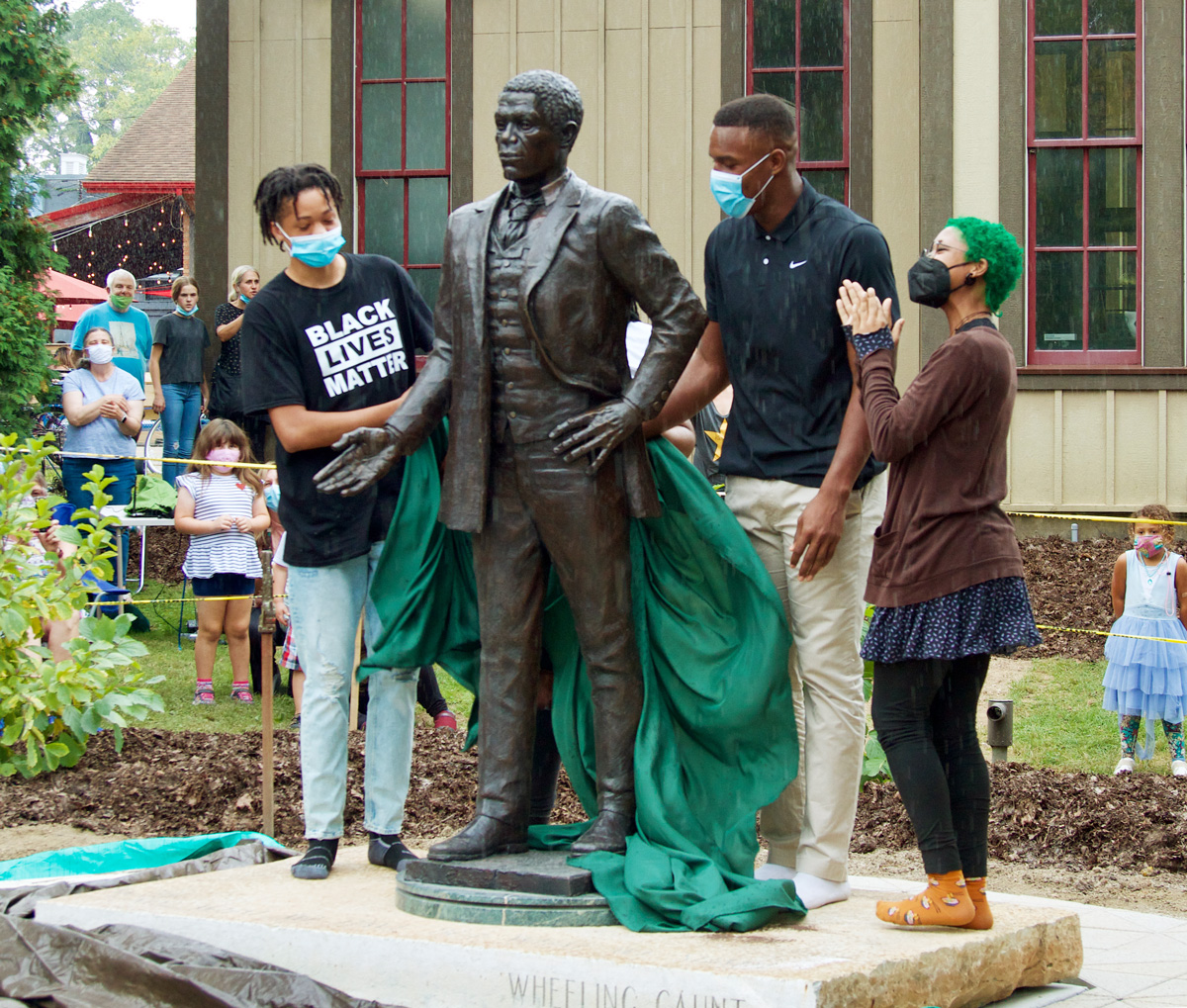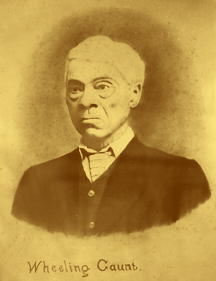 Wheeling Gaunt is remembered each year when the Village of Yellow Springs distributes flour and sugar to its deserving widows, and has been for the last 123 years. But there is much more to Wheeling Gaunt's story.
Born a Kentucky slave, he earned his freedom by peddling apples and blacking boots. He freed his family and built a small real estate fortune. In 1864, with the Civil War closing in, he sold his holdings and moved to Ohio where he grew his fortune and his reputation for industry, frugality, fair dealing, and benevolence. He was known to every distinguished man of his race from Frederick Douglas to AME Bishop Daniel Payne, founder of Wilberforce College. At his death, he was said to be the richest black man in Ohio. He bequeathed his considerable fortune to Wilberforce.
From the Xenia Gazette, May 15, 1894:

Mr. Wheeling Gaunt was buried Sabbath afternoon in Glen Forrest cemetery. He was one of the best citizens of our village and will leave a record and example of his fair dealing and benevolence which would be well to imitate by those who are left behind.
The Wheeling Gaunt Sculpture Project, coordinated by the Yellow Springs Arts Council, is creating lasting public art while engaging and educating community, students, and visitors. A vigilant welcome to people of color, the life-size bronze will commemorate Wheeling Gaunt, our 19th century entrepreneur and philanthropist who taught by example about giving rather than taking. Mr. Gaunt's values of hard work, perseverance, and generosity inspire all citizens and his "can-do" attitude is an example young people can emulate. The completed bronze sculpture will expand our downtown National Bronze Sculpture Trail and convey our message that the community is rooted in diversity and the contributions of people of color are a significant part of our history.
Stay informed or join the project's supporters by liking Yellow Springs Arts Council on Facebook or signing up for their newsletter here.
---
Partners/Sponsors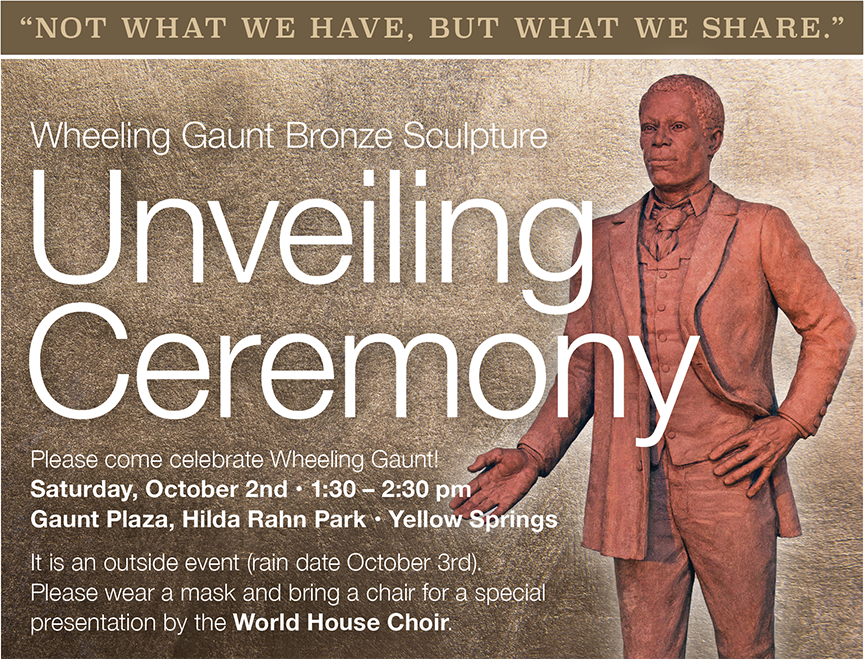 A life-sized bronze sculpture honoring Wheeling Gaunt is the focus of many community organizations:
365 Project – serves as a catalyst that challenges and supports the people of Yellow Springs and Miami Township to engage critically and respectfully in dialogue and action that promotes and sustains diverse African-American heritage and culture, and educational equity, 365 days a year. More >
National Afro-American Museum & Cultural Center ­– provides changing exhibits and special programs sharing African American history, art and culture at the museum in Wilberforce, Ohio, home of two historically black universities: Wilberforce and Central State. More >

Yellow Springs Historical Society – researches, collects, preserves, interprets and educates others about the history of the Village of Yellow Springs. More >

Bing Design – an award-winning company specializing in graphic design, marketing communications, brand development, web strategy, emerging and social media, public and community relations, and electronic communications. More >

Village of Yellow Springs Arts and Culture Commission – advises Village Council regarding the merits of any art concept, proposed art exhibit or installation, to ensure respect for other users of public places, as well as to convey the creative and welcoming nature of our community, to attract persons to the Village to enhance economic activity, and to increase community collaboration and inclusion, promote participation and contribution. More >

YS Chamber of Commerce – encourages a vibrant business environment that drives the success of our members while enhancing the quality of life in our community. More >

Yellow Springs Heritage – provides a glimpse into the history of the village and allows forgotten voices to be heard once more; shares these histories with the public through educational programs and walking tours. More >

Wilberforce University – oldest private Black university in the U.S. that continues to support students in their journey to become wholly educated individuals. More >
Yellow Springs Community Foundation – entrusted with the responsibility of enhancing community life, the YSCF is a catalyst and resource for local charitable giving and grant making. Donate to the sculpture project.
Yellow Springs Schools – creating a challenging educational environment where each student contributes to the intellectual and cultural richness of the community and is provided the skills and knowledge to become a socially responsible, self-directed, life-long learner. More >
James McKee Association – carrying out research and education in support of public information, education and participatory democracy. More >
---
Biographies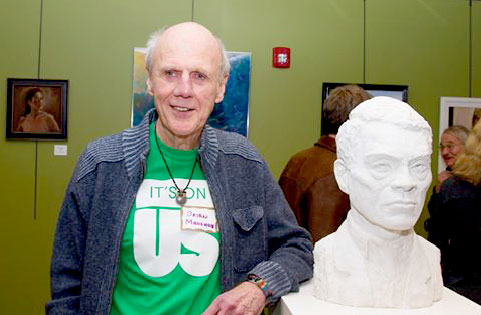 We have the Artist: Brian Maughan
Brian Maughan (MFA, BFA from the San Francisco Art Institute) is a nationally known sculptor who moved to Yellow Springs in 2006 from New York City. Maughan has worked in various media, but sculpture has dominated his efforts. In the last 20 years he has worked principally in ceramic clay, much of which is then cast in bronze. Recent installations include "Bob Uecker," radio announcer, and "Bud Selig," Commissioner of Major League Baseball, in Miller Park, Milwaukee.
Project Coordinator and Artist/Educator Cheryl Durgans
Originally from Yellow Springs, Cheryl Durgans is a visual artist, writer, and Wilberforce University instructor. She has managed numerous community arts programs, including the City of Philadelphia's Mural Arts Program (2007-11), Porch Light Initiative, and the Love Letter mural, funded by the Pew Exhibitions Initiative. She received an M.F.A. in Studio Art from Moore College of Art and Design, following a B.A. in Art with a painting concentration from Spellman College. She has participated in the Philadelphia Fringe Festival, and Philadelphia Black Women's Art Festival as both artist and writer.
Project Consultant John Fleming, PhD
John Fleming, PhD, is current Director in Residence of the planned National Museum of African American Music in Nashville. A Yellow Springs resident, Fleming has worked for more than 30 years in the museum field, working diligently to bring the rich history of African Americans to diverse audiences in Ohio and across the country. President George W. Bush named him to the National Museum of African American History and Culture Presidential Commission. Other past affiliations include Ohio Historical Society's Founding Director and Project Director for the National Afro-American Museum and Cultural Center in Wilberforce (1980-88); Director of the National Underground Railroad Freedom Center (1998); Vice President of Museums at Cincinnati Museum Center; Executive Producer of "America I Am: African American Imprint on America" traveling exhibition; Consulting Director of the International African American Museum Project in Charleston; Senior consultant for the Mississippi Civil Rights Museum.