February 17 – March 12
"When Imagination Runs Wild" – 2023 Members Show
Reception Friday, February 17
Member artists will create work in the media of their choice, resulting in our community's weirdest, wildest, most imaginative pieces of art. Is it thought provoking? Is it whimsical? Is it fun? This exhibition will be as interesting and varied as our artist community!
---
March 17 – April 16
"Sojourning" – Mixed Media Collage by Rachel Z. Meyer
Reception Friday, March 24
Rachel has been creating mixed media collages for over a decade. Text from newspaper, flyers, magazines and more provide the background to her work, which is sometimes whimsical, sometimes thoughtful, and always chock full of creativity.
---
April 21 – May 21
Mary Noble
Reception Friday, April 21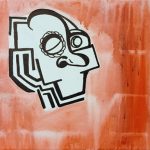 Mary Noble is a local abstract artist who lives in Dayton, Ohio. She does not have any formal art training outside of high school, but rather lets her emotions carry her through her pieces. Her style is fluid and changes from piece to piece, but she typically is found using acrylic paints or watercolors.  This show highlights pieces Mary made in reflection of her siblings.
---
May 26 – June 25
"Miami Valley Scenes and Dreams" by Miami Valley Quilt Network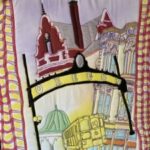 Reception Friday, May 26
This 17-member collective of fiber artists will show some art of the Miami Valley that has already been exhibited, in addition to making new art specific to this show. These quilters will use fabric, yarn, and other materials to create art quilts which honor the beauty of the Miami Valley. Shown: Oregon District by Ronnie Doyal.
---
June 30 – July 30
Fiber Art by the Dayton Knitting Guild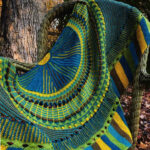 Reception TBD
Since 1986, the Dayton Knitting Guild has promoted interest and skill in the art of knitting to community members of all skill levels. They encourage high standards of quality and workmanship, which will be evident in the work they will display. Both wearable and non-wearable art, made by a variety of Guild members, will be created and displayed at this show.
---
August 4 – September 3
Quilts by Valerie Blackwell-Truitt
Reception TBD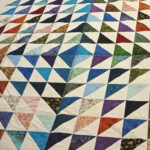 Quilting is another means of creative expression for Valerie, who is also a singer and dancer. She finds that patience she has for sewing makes the creative process so enjoyable. Creating and gifting quilts brings familia and friends together. She has an enormous sense of accomplishment knowing she is able to create beauty, not only through fabric choices, but also with designs, and how they speak to her. 
---
September 8 – October 8
Laura Carpenter Truitt
Friday, September 8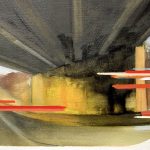 Much of Laura's work has to do with perspective. Linear perspective, surely, but also our emotional and collective perspective of landscape and personal space. The underlying conflict in her work is generated by climate change, land abuse and over consumption of all kinds, her own included. The borders and edges of images illuminate barriers as well as showing us paths of entry.
---
October 13 – November 10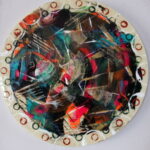 Nisa Blackwell-Turner of TNP Artistic Imperfections
Reception Friday, October 13
Let's think outside that box when creating art!!!  There is no set definition or style, it's where your mind takes you and that's the beauty of the finished product. The abstract acrylic paintings included in this show will show where Nisa's mind has taken her.
---
November 17 – December 30
Holiday Art Jumble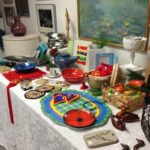 The Village's favorite second hand sale will return to help with your holiday shopping! Locals have donated jewelry, glass, dishware, bits and bobs, and art from around the world and from right here in Yellow Springs. The selection changes frequently, as new items are donated. The artist supply table is back so you can scratch that creative itch. Be sure to visit and see what treasures you can find!