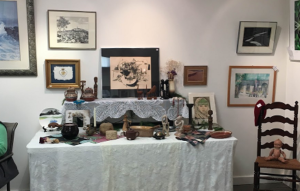 Join Us This Season

A fundraiser by the Yellow Springs Arts Council, November 18th – December 31st. 
Open during gallery hours: Wednesday-Sunday 1-4pm
Extended hours: 11am-5pm on Nov. 24, 25, 26, and Dec. 9, 10, 16, 17, 23
Closed: Nov. 23 and Dec. 24
Location: YS Arts Council Gallery, 111 Corry Street, Yellow Springs, OH
We invite you to donate anything fascinating, lovable, crafty or "artsy" that you are ready to pass on or no longer have a place for. We would love your Out-of-the-Closet Art, Grandma's Artsy Knickknacks, Hand-Crafted Whimsy, and Art Supplies.
Drop off your "Art Treasures" donations from Wednesday to Sunday (1-4pm) between October 22nd and November 13th at the gallery. Or call Nancy at 937-767-1366 to work out another time! (To keep restocking our Jumble, we'll be accepting donations during open gallery hours all the way through Dec. 20th.)
Special Hours for YSAC Members
Nov. 17 • 6-9pm • We open the doors for our "Sneak Peek" sale. Enjoy tea, cookies, and hunting for treasures at the YSAC Gallery.
Starting November 18th, enjoy the Holiday Art Jumble! You will find unique gifts at can't resist prices, and supporting the arts in Yellow Springs!
Sorry to say we cannot accept used toys, clothing, kitchen appliances, or books. (Of course, if the item screams "ART!", we will gladly make an exception!)
"This is the best of what this holiday season should be – well loved items in search of new homes. The items have so much character and history, and patina. Being there actually inspired in me some seasonal cheer. I am going back (and searching for my own treasures to donate). Thanks so much for restoring my spirit."
– Dennie Eagleson