Please join us for the 5th bi-annual Art House-Hop: A Collector's Showcase – Sunday, June 25, 2017 – Noon – 5:00 PM
A self- guided tour of Yellow Springs private art collections featuring some special gardens too!
$15 per person (children 12 and under free)

---
Tickets are now available:
PayPal button on right – Before June 25th, you will be able to pick up your brochure with a map from 1-4 p.m. during Open Gallery Hours at the YSAC Gallery. On June 25th, the Gallery will be open from noon-4 p.m. YSAC Community Gallery is at 111 Corry St., in Yellow Springs.
YS Arts Council Gallery – 111 Corry Street – 1-4 Wednesday through Sunday (except the week of June 12th-16th when the Gallery is closed for installing a new art show)
The Farmers Market in the parking lot of King's Yard – 9-12 a.m. Saturdays, June 3rd, 10th, 17th, 24th
Village Artisans – 100 Corry Street – 11-5 p.m. Monday – Thursday / 11-6 p.m. Friday – Saturday / 12-5 p.m. Sunday
Purchase tickets on PayPal here:
Online tickets can be purchased now – brochures and map can be picked up starting on June 1st at The YSAC Gallery. We'll be open from 12-4pm the day of the Hop.

---
"I wanted to let you know that my husband and I went to the Art House-Hop on Saturday. It was such a delight! The art was so interesting – eclectic, beautiful, intriguing, a touchstone of people's lives and travels. We felt so warmly connected to the community, collectors and viewers alike. So: thank you! It's just wonderful, in conception and execution."
– Audrey Hackett
The Art House Hop was created as a way to honor the wonderful Art Collectors of Yellow Springs. And also as a way to see beautiful art in private collections that we might not have a chance to see otherwise.
We are now into our 5th year of this great adventure. Each year we discover more art collectors in the village and more fabulous art! The art collections have been amazingly varied. They have ranged from many generations of Ohio Artists to International Artists to Historical Art Collections from around the world.
The 2017 Art House Hop features 6 different Art Collections.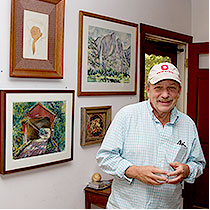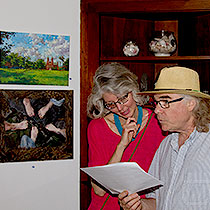 The tour happens rain or shine. The homes are located all around town, so biking or driving between homes is recommended, rather than walking. This is a self-guided tour which you can visit in any order and at your own pace. The homeowners will be on hand to greet you and answer your questions. And please be sure to make time to visit the YSAC Community Gallery!
The Art House-Hop is a Fundraiser for the Yellow Springs Arts Council. When you purchase a ticket to the Art House Hop you get a brochure with a description of each collection, addresses and a map.
This lovely article by Meredith Moss about the Art House-Hop appeared in the Dayton Daily News on August 30, 2015.
"The Art House-Hop in Yellow Springs was an exceptional experience. The art was diverse; in about every style one could image. To be able to see it in the natural setting of homes was wonderful. The hosts were very gracious and shared stories about their art collection: the artists, where they got their piece (s) and why. Local artists were very well represented; such a pleasure. It was refreshing, unique, and a lot of fun. " — Sandi Sharp