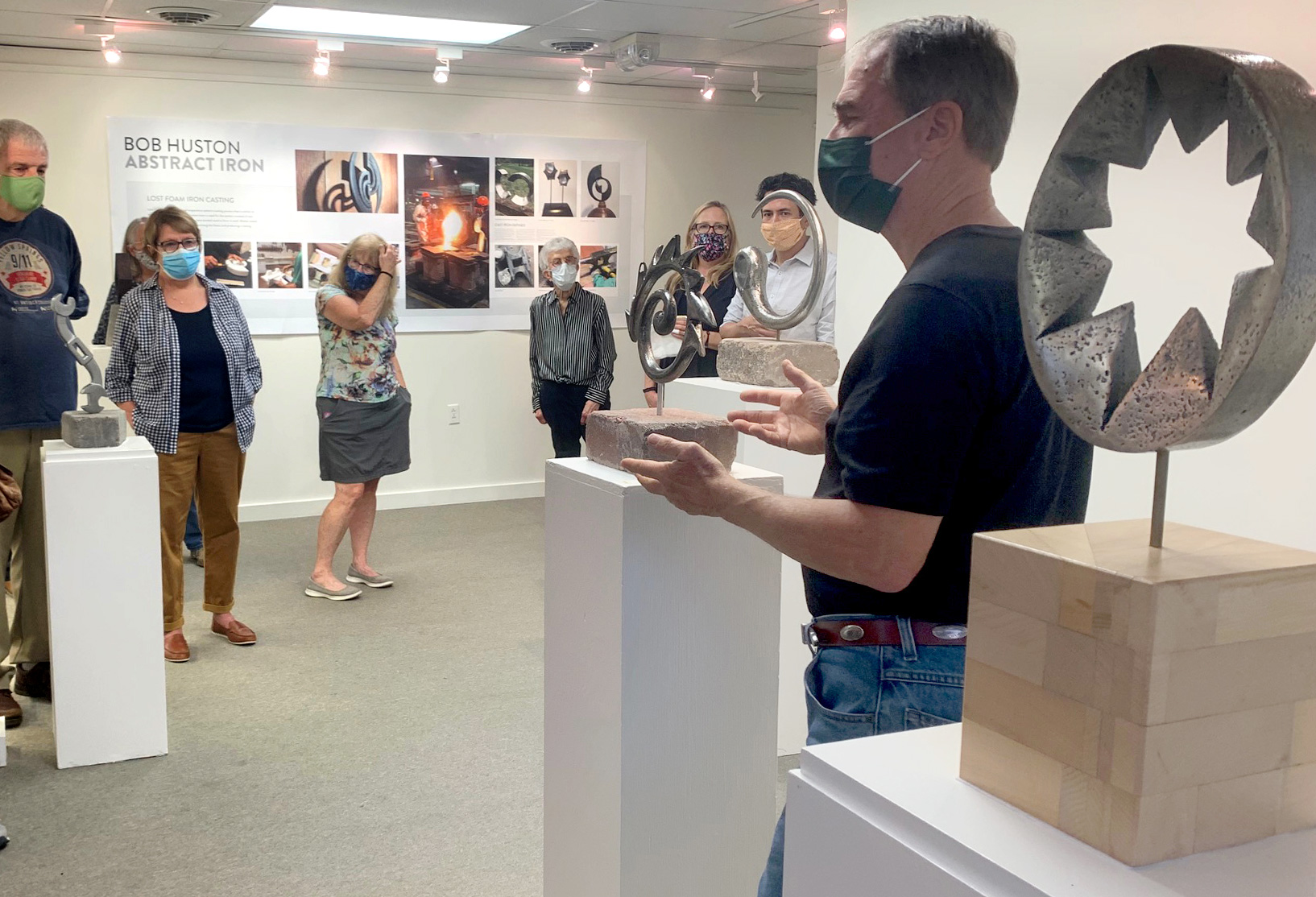 "Tool Abstracts"
Sculpture by Bob Huston

October 1st – 31st
Artist Reception: October 8th 6-9 pm
Metalcaster and sculptor Bob Huston will display work that blends his love of hand tools and fascination with abstract shapes. The works were all created through a process called 'lost foam casting'.
Even as a small child, Huston preferred expressing himself through drawing, calligraphy or model building instead of through words or music. His first formal art class was in college, when Art History 101 redirected his path from pre-engineering to studio art. For several years after college, he explored the use of hand tools through making hand-painted and hand-carved signs. A long career in metalcasting followed; Huston was the third generation in his family to own and operate a cast iron foundry in Xenia, OH, which is now 101 years old. His love of art and knowledge of casting have led him to explore iron sculpture­ for his own pleasure over the past 15 years. His sculpture has previously been exhibited in a few member shows at the Springfield Museum of Art, and at a solo show at the YS Senior Center in 2018.
This exhibit, "Tool Abstracts" is the result of Huston's love of hand tools and fascination with abstract shapes. Tools for gardening, homesteading, woodworking, and metalworking have evolved over the eons, gradually being modified to suit the craftsperson and the job to be done. Form followed function. Though the sculptures in this exhibit all look like repurposed tools, they were created through Huston's version of "lost foam casting." Each piece started with a Styrofoam shape. A chemically bonded airset sand was molded around the foam, then molten metal was poured into the mold. The foam evaporated, leaving the same shape in cast iron. Finally, Huston used shotblasting, grinding, and polishing to finish off the piece, applied a finish to prevent rust, and mounted the sculpture on a base.
GALLERY OPEN
1 – 4 pm Thur. – Sun.
These sculptures will be exhibited in the physical gallery space at 111 Corry Street in Yellow Springs. This will be the first exhibit held in the physical gallery space in Yellow Springs in a year and a half. The artist reception, which will be held at the same location on Friday, October 8 from 6 – 9 pm, will take place outside as much as weather permits. We request that all visitors wear a mask, regardless of their vaccination status.