Mills Park Fence Art Gallery Project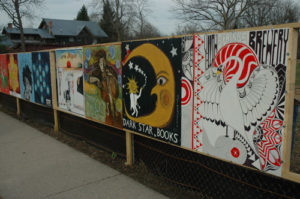 The Mills Park Fence Art Gallery Project grew out of developer Jim Hammond's desire to have an attractive safety fence surrounding the lot where he was building a hotel at the corner of Xenia Avenue and Limestone Street in Yellow Springs. He approached the Arts Council about coordinating the artists and the project was born!
Nearly 50 sponsors agreed to fund a panel painted by nearly as many artists, all of whom received a stipend for their work. All sponsor and artist spots are full. The panels were up for several months and were returned to the artists when the project was complete.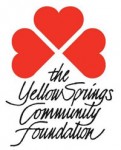 Read more about the project in this article from the Yellow Springs News and this one from the Dayton Daily News.
Thanks to Joanne Caputo and Nancy Mellon for their input in developing the project, and to Holly Underwood for coordination. We are grateful for a grant from the Yellow Springs Community Foundation.
Panel
Artist
Sponsor
Cacky Carey
Travis Tarbox Hotaling
Bruce Parker
Kit Crawford
Ali Massullo
"Fire in the Sky" by Paul MonaghanA mixed media piece consisting of melted eutectic alloy splattered on soapstone, embedded with lava rock and glass nodules. The splatters are mounted on plywood coated with a ceramic automotive paint, while the fireball is acrylic paint. The inspiration came from my interest in space, having worked on the original Luna Module, and observing molten jet engine turbine blades splattering on concrete.
Kim Hays
Katharina SeidlI love what Chamber Music Yellow Springs is doing for the music culture in Yellow Springs. For thirty years they have brought exceptional and world renown chamber music groups to our little village in Ohio. Many years now their logo has been this little cartoon cello guy and to that I wanted to add a female image. The ' YS News' described her as soulful and that is exactly what I was going for, since music is at the heart and soul of our village.
Chamber Music Yellow Springs
Amy Bowlin
Dark Star Books
Paul De La Vergne
De La Vergne Woodworks Gallery
Jennifer Perkins
Dunphy Real Estate
"Gnome Place Like Home" by Cheyenne Pinkerman
Sam Stewart
Pam Geisel
Talitha Greene
"In Memoriam" by Christine KlingerUsing a mandala design, I illustrated one (or more) leaves, seeds, etc., from each of the 10 types of trees that were felled on this land. It is my tribute to these trees.Photo by Christine Klinger
Erin Smith-Glenn
Students from Antioch College
Greene Environmental Coalition
Dan Flanagan
Chelle Palassis
Somalia Robinson
Human Relations Commission
Bob Huston
Bob Huston
Tricia Tallman
The Import House
"Rainy Days" by Christie Linard
Jim Rose
Jim Rose Puppets
Viswapal
Michael Jones
Kismet/Pangea
Margaret Morgan
Gayle Sampson
Chris Glaser
"Daydreamer" by Gloria Bowlin
The Riding Center Association
Juno Shermano
The Smoking Octopus
Bettina Solas
Sweet Sanaa
Roger Smith
Tom Verdon
Tom Verdon
Designed by Kathy Moulton; painted by Nancy Mellon, Theresa Mayer, Libby Rudolf and Sue Brezine
Richard Lapedes and Juliana R with Technical Assistants Scott S, Michael J, Denis J and Terri H-P
Wavelength Aveda Salon & Spa
"Morris" by Corrine Bayraktaroglu
Matt Minde
"Hypnoswan" by J.C. Wheaton of Spotted Hand StudioAn enrolled member of California's Konkow-Nomlacki tribe, J.C. fuses natural themes (animals/plants/trees) together with traditional California Native American designs, and flow of consciousness symbolism. This piece started with his desire to draw a swan.
Somalia Robinson
Maxine Skuba
I have always been inspired by quilt patterns. Many of those patterns can be found on other cultures' marble cathedral floors or in ceremonial garments, hence the name of perennial art forms. I have wanted to do large motifs like the kind you see on the sides of barns in and around the Midwest. This was my chance to make one and I didn't have to deal with the installation part. This is a variation of a four patch quilt design and also a variation of Hull's Victory.
David Baxter
Members of the Teen Advisory Group
Scott Stolsenberg
Yellow Springs Heritage
Kayla Gray
Yellow Springs Historical Society
Sherraid Scott
Yellow Springs News
Brian Mathus

Jade McConnell
Pierre Nagley

Yellow Springs Kids Playhouse
Nancy Mellon